Note: These Royal Advisory Board tools get broken after each Realm Grinder update, and it may take a while for the dev to update it to the new export code.
About The Royal Advisory Board
[
edit
|
edit source
]
The Realm Weather Service, Save Editor, and Lara Crypt are all part of the Royal Advisory Board website, first created[1] and made open source[2] by Pseudobyte. Updated and maintained for sometime by GeneralYouri[3], and actually by dox4242[4].
Alternative short link to RAB homepage: bit.do/RGRab
Realm Weather Service can predict Lightning Strikes targets, Miracle (D400) targets and Dragon Breath effects using an exported save file.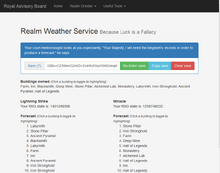 Abdicating or reincarnating does not change the pattern of underlying random values generated[5]. Which buildings these values translate to depends on the number of buildings possessed. The random values can be thought of as values from 0-100%, with each kind of building having an equal share of likelihood. For example, if a value of 24% is to be generated next and you have four kinds of buildings, the first building (0-25%) will be targeted. However, if you build a fifth building before using Lightning Strike, then the second building (20-40%) will be targeted. On the other hand, a value of 5% will always target the first building no matter how many you have. How the pattern will change upon building or omitting buildings is not possible to predict just from the pattern of strikes, but Realm Weather Service may add support for this in the future.
To avoid the necessity of updating your bookmarks[6], bookmark one of these alternative short links[7]:
bit.do/rws
bit.do/RGForecast
Lara Crypt is an excavation Artifact RNG reader. It will show you when, in how many excavations, you will find the eligible artifacts for your current game. RNGs persist through reincarnations. (eg: If you need 1000 excavations and manage 600, you can do the missing 400 in the next reincarnation. - 400, if you have the same buildings, spell casts, clicks, etc. requirements fulfilled.)
Note that the results can change if more artifacts become available or if you excavate with different artifacts eligible. The behavior of the artifact RNG is fairly nuanced, for a more in-depth explanation, see here.
The Save Editor is a tool for viewing and editing stats, and has superseded royal scribe for viewing purposes. It shows data for the current game, current reincarnation and since starting RG for each stat value. It can be used for checking all your Total active spell times for unlocking Tier Spell Upgrades - even those you are currently not using, and your consecutive faction affiliations for getting certain artifacts .. etc.
In addition, it can edit a variety of things in the save, which is great for testing stuff.
Community content is available under
CC-BY-SA
unless otherwise noted.